An accommodation for 6 persons in a typical house, classified 4 stars accommodation with big garden and warmed swimming-pool.
For those who appreciate the charm and authenticity of houses in the South of France, this typical Provencal farmhouse, quiet, in spacious and comfortable setting, furnished with authentic and all the amenities is a great location for exploring the region.
Living on site, we will tell you the places to visit, restaurants to discover, and will gladly answer your questions while showing respect for discrete tranquility.
Your guests
Dany and Claude continue the family tradition. The house has been passed by the girls since its inception in 1870, and Dany is the fifth generation of the family to live in the property.
Thanks to documents gathered and memories of our past, we are committed to keep the authentic side while improving comfort.
It is a pleasure for us to share this jewel receiving you and sharing our knowledge and love of our region!
Location
In the south of France, at 8 km east from Arles, between la Camargue, les Alpilles and la Crau...
Meadowlands that provide Crau hay, the mas Ballot is peace and quiet, close to a small village, Raphèle, nicknamed the Crau oasis.
Actualités

Not to miss any news, subscribe to the RSS feed!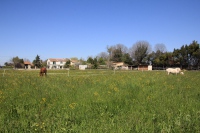 Mas Ballot guests benefit from the arrival of Spring: new grass for the horses,  pool at 27 ° C (81°F) for guests.  
Published on
Tuesday, April 14, 2015 - 21:39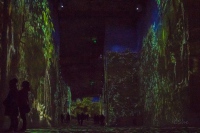 Before the theme change, Klimt and Venne at the carrières de lumière, before the following theme: Michel-Ange, Léonard de Vinci, Raphaël
Published on
Monday, January 5, 2015 - 21:17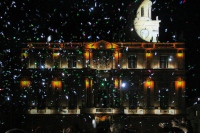 "Drôles de Noël 2014" : For December 20 th / December 24 th, free shows in Arles! Plus de photos en cliquant sur ce titre...
Published on
Sunday, December 21, 2014 - 13:58
Pages